Hot Tubs, great for holidays, great for your wellbeing.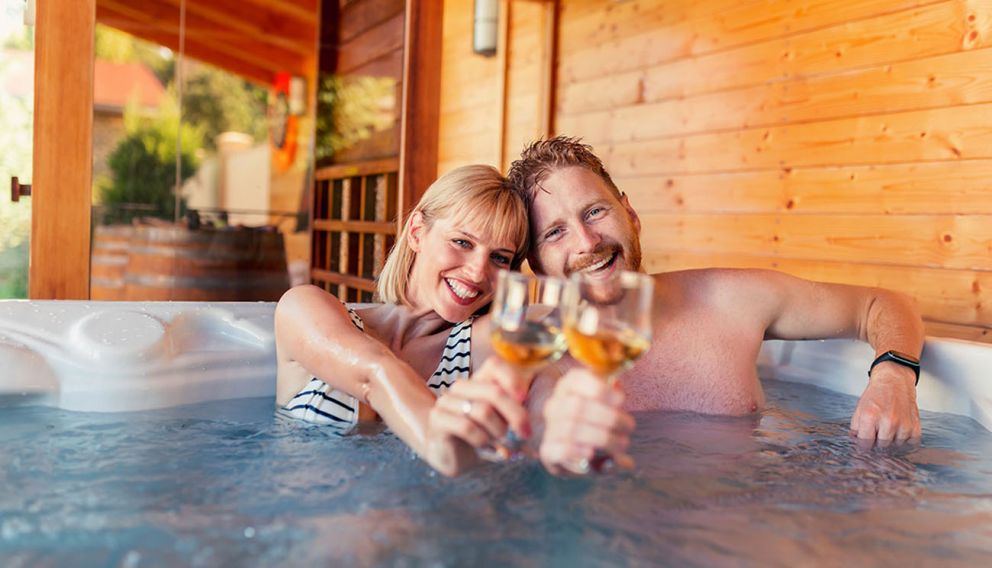 There is no escaping the popularity of a hot tub while on holiday. It may seem like 'icing on the cake' to have a hot tub, however, its popularity has grown immensely and is now a 'must have'.
There is something extremely relaxing about the experience, even just thinking about it. Just imagine the scene, sinking into your very own holiday hot tub, in a peaceful setting, with a glass of something special, looking out over a beautiful view. What could be better?
It might be that you are looking to indulge in a romantic break, staying in a luxury holiday lodge, or glamping pod, within a tranquil countryside location, where you can enjoy all the location has to offer, then unwind in the evening by settling into your private hot tub, underneath a starlit sky, while admiring the scenery.
Hot tubs are also great for the family holiday. Your day will be packed with activities as the family enjoys cycling, nature trails, zip wire, water sports, the beach, and an array of holiday activities available. What better way to relax afterwards than with time in the hot tub, from simply splashing around having fun, to chilling. The children will most likely disappear onto other things, leaving you to unwind in peace.
Of course, they are not just for the summer weather, you can enjoy a hot tub all year round, and each season offers something different. Spring and summer naturally offer better outdoor weather, however sitting in a steaming hot tub, even while watching the rain, is a superb experience. A winter experience creates a different environment, calm and relaxing, looking out on the frost or even snow, however, you will be cosy and warm in the hot tub.
Apart from the pure pleasure of sinking into the hot tub, they have proven to offer huge health benefits and provide an uplift to our emotions. The whole experience of relaxing in warm water, with the massaging action of the hot tub jets soothing our muscles and easing our overall tension, has a positive effect on our physical, emotional, and mental wellbeing. This in turn promotes a good night's sleep, again improving our inner mindset.
There are benefits to be gained with pain relief for certain health conditions such as arthritis and lower back pain. It is also considered to improve our cardiovascular health by raising our heart rate and lower our blood pressure. The health benefits are marvellous, although when we are away enjoying our holiday, it is the pure pleasure of the hot tub experience that grabs us and gives our overall wellbeing a major boost.
Hot tubs have increased in popularity year-on-year, and with the ever-growing staycation, they have seen a boost during this past year. Selecting your next holiday to include a hot tub won't restrict your choice of location as private hot tubs are readily available in most locations, whether you are looking for a luxury holiday lodge or glamping pod.
Posted By
Just Lodge Holidays
25th August, 2021
---
Share This Page